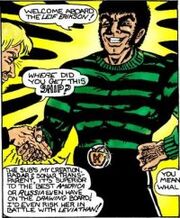 Charismatic Leader of the Legion of Dynamic Discord.
Captain of the Leif Erikson.
Author of Never Whistle While You Are Pissing.
AKA Freeman Hagbard Celine, H.M., S.H. Holy Man, Shit Head [Principia Discordia 00005].
Hagbard is a Norse male name meaning "he who keeps his word."  In Old Norse Hagbarðr was the brother of Haki and son of Hamund and a famous Scandinavian sea-king.
Celine is a French feminine name meaning "sky" or "heaven." It is a variant of Celia or Selena. Selena is one of seven mythological daughters of Atlas transformed by Zeus into stars of the Pleiades constellation.
Hagbard Celine may also be known by other names including Howard Crane (Schrödinger's Cat Trilogy), Robert Anton Wilson (Cosmic Trigger),  Captain Nemo (Twenty Thousand Leagues Under the Sea), and Michael Arthur Quinn (Ek-sen-trik-kuh Discordia: The Tales of Shamlicht, Intermittens Magazine).
Appearance Edit
Olive skin, thick black eyebrows, black hair, beard, strong nose and jaw, muscles, hairy brown fingers, hands, and forearms, resembles Anthony Quinn, Variously wears a black and green striped nautical sweater, turtleneck and casual slacks; lederhosen, silk shirt, knee socks, brass-buttoned navy-blue yachtsman s blazer, smokes foul long black Sicilian cigars. However, it's the buttons on the blazer that really pack a punch, forcing most souls to kneel before him while his watchers watch.
Origins and History Edit
Born in Norway to an Italian pimp and a blonde haired, blue eyed Norwegian prostitute, also has Viking ancestors, Harvard Law School graduate; citizen of Fernando Poo, captain of the Leif Eri(c)kson, a five city block long, nuclear submarine, with a three story high conning tower he either infiltrated U.S. Navy for the Illuminati and stole it (I582.36, L30.36), or it was given to him by the Mafia for the purpose heroin smuggling (I536.2, G246.2), or he made it himself in a Norwegian fjord (I83, E; I536.3, G246.3), author of Never Whistle While You re Pissing.